The Senate Will Soon Vote on an Amendment to Overturn Citizens United. History Is Calling!
http://www.opednews.com/articles/1/The-Senate-will-soon-vote-by-Jim-Hightower-Citizens-United_Inequality_Mammon_Politics-140705-495.html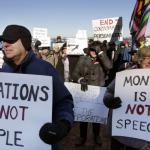 So many absurdities abound in our lives that there's a whole body of philosophical thought called "absurdism," as well as an entire catalogue of plays called the "theater of the absurd." And then there's 
Antonin Scalia
[1]
.
This sour, scowling, and snarky Supreme Court Justice personifies the dictionary definition of absurd: "Utterly or obviously senseless, illogical, or untrue; contrary to all reason or common sense; laughably foolish or false."
A right-wing dogmatist and extreme judicial activist who's full of himself, Scalia has been the court's chief monkey-wrencher for corporate interests, constantly messing with the Constitution to enthrone plutocratic money over our people's democratic politics. By black-robed fiat, 
he and his four fellow corporatists
[2]
 on the bench have managed to twist language and pervert nature itself by declaring that corporations are "people" and money is "speech." Thus, in their 
now infamous Citizens United edict of 2010
[3]
, the five decreed that these huge, lifeless, paper constructs -- without brains, hearts, souls, or tongues--must be free to "speak" in our elections by spending unlimited (and undisclosed) amounts of their shareholders' money to determine who wins public office.